Da sind wir jetzt also – nachdem ich vor mehr als eineinhalb Jahren beschlossen hatte, den Wechsel zu WordPress zu wagen und damit eine bessere Grundlage für den Blog und mich zu schaffen, habe ich es jetzt endlich auf die Kette bekommen. Hier sind wir also – bei WordPress und direkt auch mit einem neuen Anstrich. Gott sei Dank hatte ich tolle Unterstützung und konnte den Umzug reibungslos hinter mich bringen. Mir fällt ein riesiger Stein vom Herzen, dass dieser Schritt nun endlich getan ist.
Ich hoffe natürlich, dass euch das Design genauso gut gefällt wie mir und dass ihr euch gut zurecht findet. Hier und da muss ich noch in die Feinarbeit gehen – wundert euch also nicht, wenn es hier und da noch hakt. Wenn euch grobe Fehler auffallen, lasst es mich gerne wissen. Denn manchmal wird man ja bekanntlich betriebsblind und es wäre schade, wenn ihr etwas vermisst und ich das gar nicht weiß.
Damit es aber nicht nur um das neue Design geht, habe ich euch direkt noch ein neues Outfit mitgebracht. Wie es immer so ist: nachdem ich drei Pullover für den Winter gefunden hatte, war das Kapitel für mich abgeschlossen. Nur, um damit das Türchen zur unendlichen Pullover-Welt zu öffnen. Überall finde ich plötzlich weiche Pullover, die trotz Oversize-Schnitt gut sitzen und dazu auch noch nicht allzu viel kosten. Gibt's ja gar nicht!
Dieser hier ist zum Beispiel einer davon – dunkelgrau, dick und unglaublich warm. Mein Pullover mit den schönen Details am Ärmel. Sind es Knoten? Sind es Schleifen? Ich weiß es nicht. Ich habe nur gelernt, sie mit einer Hand und meinem Mund neu zu binden. Dazu trage ich meine Overknees, nach denen ich auf Instagram bereits gefragt wurde – sie sind leider schon drei Jahre alt und nicht mehr erhältlich – aber dieses Modell von Rapisardi habe ich in einer anderen Farbe und kann es euch daher auch in Schwarz wärmstens empfehlen. Und jetzt freue ich mich auf eure Kommentare zum Blog, zum Design und zum Outfit! Schönen Sonntag Abend, ihr Lieben!
_ _ _ _ _
Here we are. Finally! After more than one and a half years (yes, it has been that long since I first made the decision to move my blog) we're live on WordPress with a new layout. I'm loving it some much and am beyond-the-moon excited! There's a little fine-tuning to do for me, hours of work I guess, but I'm so motivated to get started. I really love the outcome. Let me know if there's anything not working for you or if you miss anything that you were used to having in the old design.
I didn't want this post to be all about the new layout so I brought a new outfit with me as well. I should've know it: once I was done shopping and searching for knitted sweaters, they're everywhere. So I added three more to my collection for this year's winter and this is one of them. It is dark grey and has bows or knots (I haven't quite figured it out yet) at the bottom of the sleeves. A very pretty detail. I paired them with my black overknees – they're already three years old and no longer available but I own these ones in another color and can only recommend them. And now I'm looking forward to your feedback, concerning the new layout and design as well as the new outfit!
Fotos: Daniel Knapp | Images Beyond Words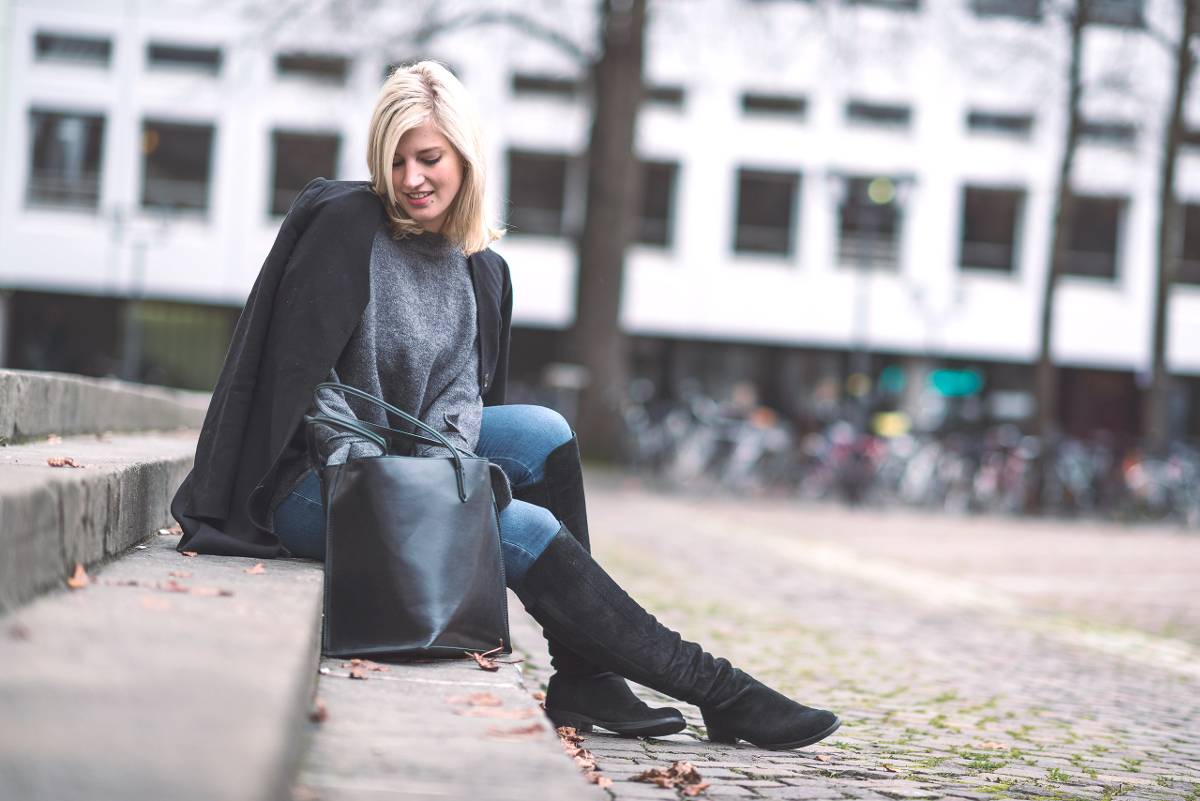 JACKET: Kiomi
SWEATER: Zara (similar here)
JEANS*: Only
BOOTS: Crack (old, similar here)
BAG: Zara (old, similar here)
Get the Look: