Heute wird es wieder national bei unser aller Lieblingskategorie: Nina von Fashiioncarpet ist diesmal das Objekt der Begierde. Wer sie, ihren Blog und ihren perfekten Instagramfeed nicht kennt, der sollte ihr dringend folgen. Da gibt es was Ästhetisches für's Auge.
Ich hatte schon die große Ehre, Nina über ein paar Tage in Dallas bei der rewardStyle-Konferenz kennenzulernen und kann euch das hübsche Ding daher heute wirklich nur ans Herz legen und frage mich ernsthaft, wieso mein Hirn manchmal so ein paar Aussetzer hat und ich noch gar nicht daran gedacht hatte, sie euch über einen meiner Get the Look-Posts zu präsentieren.
Wer die (Nicht-)Farben Weiß, Schwarz, Beige und Khaki mag, wird den heutigen Post und auch Nina's Blog allgemein super finden, das sind nämlich ihre klassischen Go-To Farben. Nina ist meistens feminin-sportlich gekleidet, sucht sich gerne auch mal extravagantere Teile aus, die sie in ihre Outfits integriert und trägt Trends mit einem tollen Selbstbewusstsein.
Wie immer zeige ich euch heute drei ihrer Looks – in der Mitte das möglichst marken- und originalgetreue Get the Look und rechts eine budgetfreundlichere Version für um die 150 Euro. Lasst mich auch heute wieder unbedingt wissen, welcher Look euch am meisten zugesagt hat. Nina freut sich sicher über euer Feedback!
_ _ _ _ _
Today is German day on Get the Look: I'll present you Nina from the blog Fashiioncarpet. If you don't know her, her blog and her perfect Instagram feed yet, you should most definitely start following her. The aesthetical eye will be thankful. I've had the great honor of spending a couple of days with Nina in Dallas last year, so I can really recommend her not only by what I know about her from her blog, but from everything I've learned during those two days. I really don't know why I haven't featured her before.
If you're into the colors white, black, beige and khaki, this will be your post and your style to look at as those are Nina's signature colors. Her style is usually feminine and sporty and she regularly adds some extravagant pieces to her wardrobe, combining them in a great way. As always, I'll show you three looks. The part in the middle of each looks is a close replica of what she wears in her original outfit, the right part is a more budget-friendly version for around 150 euros. Let me (and Nina) know, which outfit and styling you liked best today.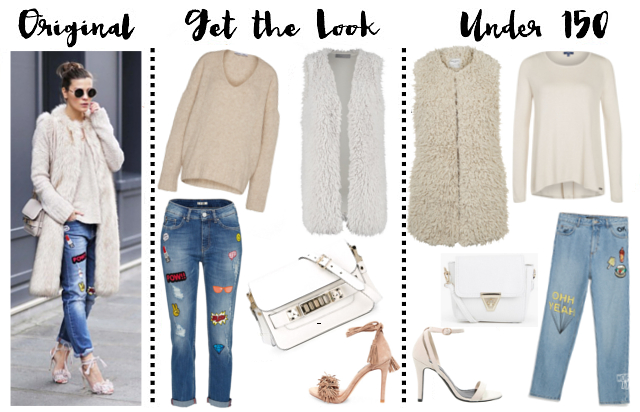 Under 150:
Vest – Vero Moda (28€) // Jeans – Zara (50€) // Pullover – Tom Tailor (30€) // Tasche – Boohoo (21€) // Heels – ONLY (40€)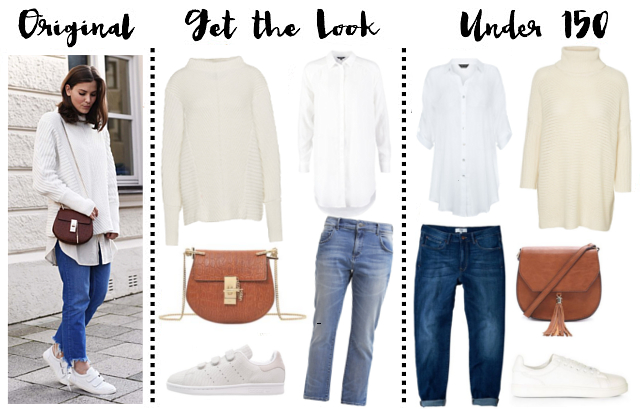 Get the Look:
Pullover – Vila (65€) // Bluse – mbyM (72€) // Jeans – someday (90€) // Tasche – Chloé (1.350€) // Schuhe – adidas (100€)
Under 150:
Pullover – Noisy May (30€) // Bluse – New Look (22€) // Jeans – Mango (40€) // Tasche – Forever21 (22€) // Schuhe – New Look (22€)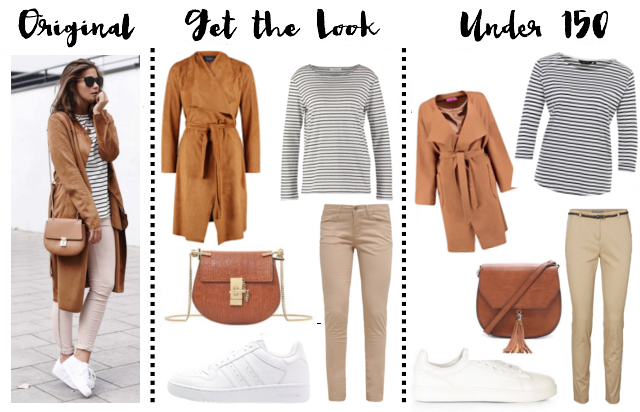 Get the Look:
Coat – Vila (80€) // Pants – Guess (90€) // Shirt – Samsoe & Samsoe (40€) // Schuhe – adidas (90€)
// Tasche – Chloé (1.350€)
Under 150:
Coat – Boohoo (45€) // Pants – Vero Moda (40€) // Shirt – New Look (10€) //
Tasche – Forever21 (22€) // Schuhe – New Look (22€)