Vor knapp drei Monaten waren sich mein Freund und mein Bankkonto einig: Lena, du shoppst eindeutig zu viel! Daraufhin habe ich etwas getan, was ich niemals auch nur ansatzweise von mir selbst erwartet hätte: Ich habe Einsicht gezeigt und mir selbst eine Art Shoppingverbot auferlegt. Nachdem ich mich diesen Samstag schon wieder auf den Flohmarkt stellen werde, um meinen aus allen Nähten platzenden Kleiderschrank etwas zu schmälern, war auch mir bewusst, dass ich ihn oft viel zu schnell mit unüberlegten Spontankäufen fülle.
Wenn mein Papa das jetzt liest, vergräbt er bestimmt verzweifelt das Gesicht in den Händen, denn dass ich unnötiges Zeug kaufe, predigt er mir mindestens seit ich Dreizehn bin. Aber da muss halt erst Prince Charming kommen und mir das sagen, damit ich es einsehe. Ob ich meinem Prinz da so glauben soll, weiß ich übrigens noch nicht ganz. Schließlich findet er auch meine hellblaue Lederjacke blöd und wer die blöd findet, dem kann man ja nicht trauen, oder?
Wie auch immer. In einem Punkt hat er recht: Ich muss definitiv überlegter meine Kreditkarte zum Glühen bringen. So haben wir also den einfachen Deal, dass ich es ihm quasi mitteile, wenn ich mir etwas kaufen möchte. Nicht, dass ich von ihm die Erlaubnis bräuchte, aber man kommt sich ziemlich schnell saublöd vor, wenn man ständig sagt Ähm, ich würde gerne den siebenundzwanzigsten grauen Strickpulli kaufen! Das hat also bisher super gewirkt und mein Kleiderschrank wächst nicht mehr schneller, als meine Waschmaschine arbeiten kann.
Das Gute, wenn man nicht mehr ständig neue Sachen hat: man muss gucken, wie man sich mit den bestehenden Kleidern neu erfindet. Und weil man nicht dauernd selbst kreativ sein kann, muss man eben bei Leuten gucken, deren Stil einem selbst zusagt und die ähnliche Teile im Schrank hängen haben. Heute gucken wir zusammen – und zwar bei Caitlyn von How Do You Wear That, die so ziemlich den gediegensten Stil hat, den ich mir so vorstellen kann. Es gibt also mal wieder ein Get the Look, wie immer links das Original, in der Mitte eine möglichst markengetreue Nachstellung und rechts eine Version für um die 150 Kröten. Welches ist heute euer Favorit?
_ _ _ _ _
About three months ago, my bank account and my boyfriend came to the same conclusion: 'Lena, you shop too much!'. Then, something happened that I never thought I would witness when it comes to shopping: I agreed. And it goes even further: I put myself on a shopping ban. Not really a ban but rather a think-before-you-shop kind of ban. My dad will most probably burst into tears when reading this because that is exactly what he's been telling me every single weeks since I was thirteen, but I guess it took prince charming for me to realize he's been right all along.


So, before going shopping now, I will let my boyfriend know about my plans. Not because I need permission but I soon found that I felt stupid telling him something like 'I'm going to buy my twentyseventh grey knitted sweater now, kay, bye!'. Not a bad idea, thinking before you shop. You should try it some time. The good thing about not having new stuff to wear all the time: you need to get creative with what you have. And because I can't be creative every day, I sometimes need help from those whose style I love and adore. Like Caitlyn from How Do You Wear That. I love her relaxed and cool style and took it three of her outfits and styled them in today's Get the Look. As usual, her original outfit is on the left, a similar version in the middle and on the right, you will find a version of the look for under 150 bucks. Which is your favorite today?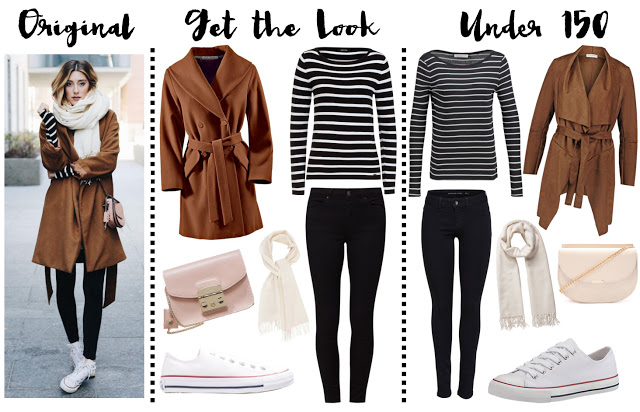 Get the Look:
Under 150: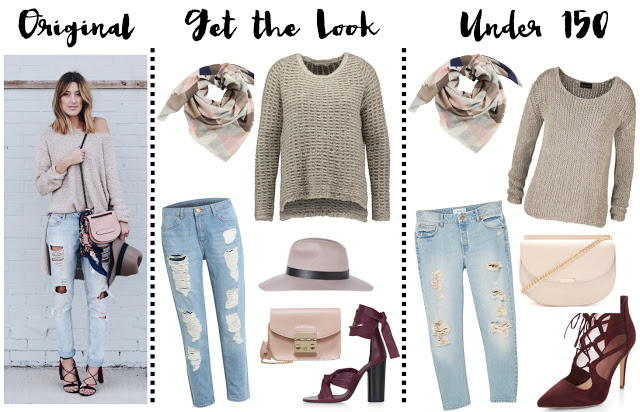 Get the Look:
Under 150: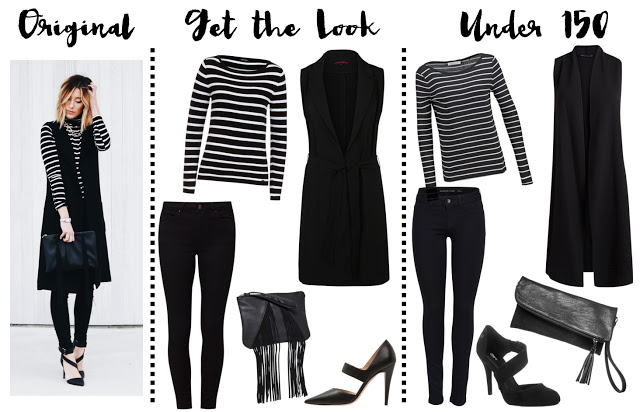 Get the Look:
Under 150: