Dass ich diesen Herbst ein unglaublich ausgeprägtes Problem damit hatte, überhaupt passende Pullover zu finden, wisst ihr schon, wenn ihr mir auf Snapchat (@LLoewenherz) oder Instagram Stories (@leonie_loewenherz) folgt. Dort habe ich euch nämlich gefühlt die ganze letzte Woche damit vollgeheult, dass ich einfach nichts finde, was mir gefällt.
Oversize-Pullover lassen einen einfach unglaublich breit wirken, wenn man nicht die allerzierlichste Figur hat – und da absolute Unförmigkeit im Schnitt Oversize diesen Herbst das große Thema ist, hatte ich ein ganz schönes Problem. In drei verschiedenen Städten war ich an drei verschiedenen Tagen. Mit dem Ziel, nach meiner großen Vorumzugs-Ausmistaktion, gepaart mit einem ausversehen zerissenen und einem weiteren ausversehen bei 60 Grad gewaschenen Kaschmirpullover, möglichst viele Woll-, Strick- und Warmhalte-Pullover zu finden. Pustekuchen! Vor meinem inneren Auge hatte ich mich mit Tüten voller Pullis nach Hause gehen sehen, in Wirklichkeit habe ich genau drei Pullover gefunden.
Genauso ging und geht es mir auch weiterhin noch übrigens mit Stiefeln. Ich habe einige Stiefeletten und bin da soweit mit den Basics ausgestattet, aber aller meiner hohen Stiefel habe ich mich im Sommer entledigt, da sie teilweise einfach schon mehr als ausgelatscht oder gar nicht getragen waren.
Auch wenn ich schon ein paar schwarze Overknees besitze, wollte ich noch mehr haben. Und spätestens, als ich dieses wunderschöne Exemplar bei Yassi zum wiederholten Mal gesehen hatte, war ich bereit, die Teile endlich selbst zu kaufen – und das hat sich mehr als gelohnt. Die Stiefel sehen wunderschön aus und sind wahnsinnig bequem (seht ihr die Woche noch in einem Outfit) – auch wenn es bei fast 1,80m Körpergröße mit dem Overknee dann doch etwas knapp ist.
Falls es euch also genauso geht und ihr noch nicht vollständig für die kommende kalte Jahreszeit ausgestattet seid, findet ihr unten drei Outfitkombinationen, die meine drei erstandenen Pullover und auch drei dazu passende Stiefel- und Manteloptionen zeigt. Bei mir geht es ja jetzt noch um das Finden einer warmen Winterjacke. Wie steht es bei euch? Seid ihr schon rundum ausgestattet? 
_ _ _ _ _
This fall, I seem to have trouble finding knitwear that I like and that fits. I went shopping in three different cities on three consecutive days and was willing to buy loads of sweaters as I had gotten rid of most of mine right before we moved to our new place. So I was in desperate need of a lot of coziness – but couldn't find what I was looking for. I ended up buying three sweaters that I liked which is better than nothing, I guess. If I hadn't accidentally washed one of my favorite sweaters on a very high temperature (it now fits a doll), it would look a lot better in my closet.
As I didn't only throw out sweaters but also most of my boots (that were more than worn out), I am also still looking for boots. My stock of ankle boots is sufficient – but I'd like to stock up on higher boots, such as overknee boots. I recently saw bordeaux colored boots on Yassi and finally gave in and bought them myself. They turned out to be super soft and comfortable and I am so happy I got them, even if overknee is barely actually over the knee, when you're almost 5'9". If you haven't found your perfect sweater and boots combination for this fall and winter, here is what I came up with so far. I hope it's an inspiration to you!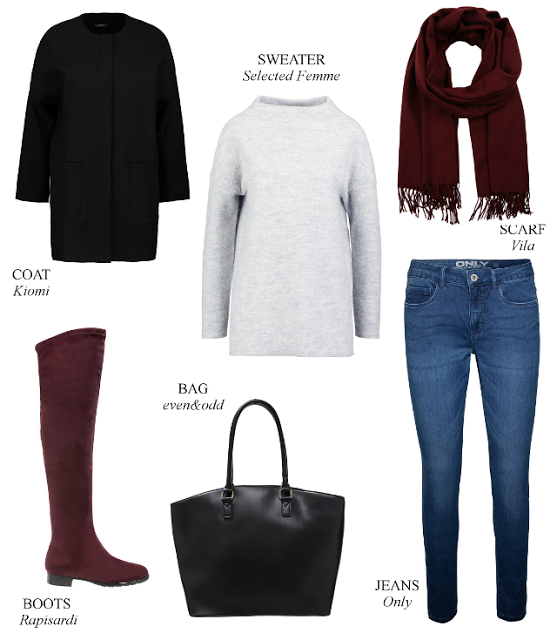 Boots – Rapisardi // Sweater – Selected Femme // Mantel – Kiomi // Jeans – Only // Schal – Vila // Tasche – Even&Odd
Sweater – Hallhuber // Mantel – Kiomi // Jeans – Only // Boots – Stuart Weitzman // Bag – See by Chloé // Schal – Acne Studios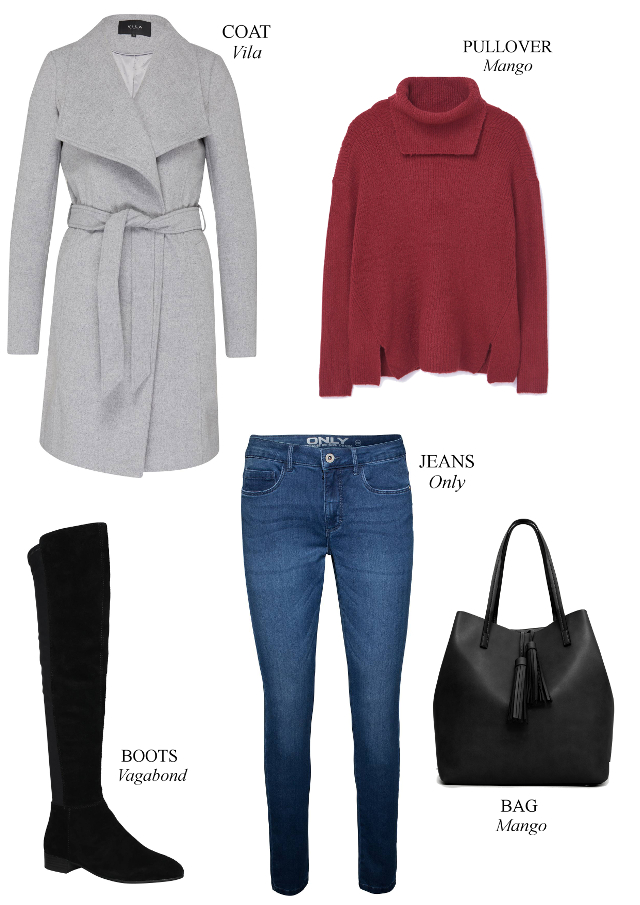 Mantel – Vila // Jeans – Only // Pullover – Mango // Stiefel – Vagabond // Tasche – Mango