Dieses Jahr habe ich es irgendwie total verpasst, mich für den Winter einzudecken. Wenn man genau zum Wechsel der Jahreszeiten, wenn andere ihre Pullis rauskramen, Kerzen verteilen und Strickdecken auspacken, in ein warmes Land in den Urlaub fliegt, ist der zeitliche Rhythmus irgendwie komplett durcheinander. Statt die besten Pullis rauszusuchen, habe ich meine Zeit damit verbracht, zwischen all den Stricksachen verzweifelt nach sonnentauglichen Tops und Röcken zu suchen. Semi-erfolgreich, übrigens. Man sollte für einen Urlaub mit erwartbaren dreißig Grad nicht erst Ende September shoppen.
Was das im Umkehrschluss für mich bedeutet? Meine Übergangsjacken sind – bis zum Eintreffen meiner Hals über Kopf bestellten Strickwaren – mein Lebenselixir. Gelayert mit meinen Standardtops und Shirts kann ich es gerade noch so schaffen, einen kühlen Herbstmorgen zu überstehen, bevor es Mittags warm genug ist, die Jacke abzulegen. Gott sei Dank habe ich neben Übergangsmänteln auch ein paar dünnere Lederjacken am Start, die es mir möglich machen, am Arbeitsplatz zu sitzen und nicht allzu Outdoor-mäßig angezogen zu sein.
Die Shootinglocation bedeutete übrigens für Fotograf Daniel und mich eine kleine Zeitreise in die Vergangenheit. Anfang 2015 haben wir uns hier in der Bahnstadt das erste mal getroffen und das erste Outfit geshootet (das ich heute übrigens noch genau so tragen würde). Fast zwei Jahre arbeiten wir jetzt zusammen und ich bin unheimlich froh, dass ich den Schritt gegangen bin und meine Fotos damit deutlich an Qualität und Professionalität gewonnen haben. Das merke ich vor allem daran, dass ihr neben dem Inhalt des Fotos auch oft das Foto selbst lobt, was Daniel übrigens riesig freut.
Das Outfit selbst ist recht monochrom gehalten – wenn es Herbst wird (okay, auch sonst immer im Jahr), greife ich gerne zu viel Schwarz. Schwarze Topshop-Skinnies sind sowieso mein wichtigstes Basic im Schrank, in meinen Bikerboots lebe ich quasi und dass ich mehr als eine schwarze Lederjacke besitze, ist für euch ja jetzt auch keine neuartige Beichte meinerseits. Die lockere Bluse war ein spontaner und gelungener Kauf, ein leichtes Hellblau zu einem Boyfriend-Schnitt, die man jederzeit lässig kombinieren kann. Wie gefällt euch mein windiges Outfit?

_ _ _ _ _
This year, I completely failed to prepare my wardrobe for winter. That is what happens when you go on vacation during the transition of seasons. Right before I left for Sri Lanka, stores had already started selling knitwear big time – but I was more focused on finding the last summer pieces to wear at 30 degrees celsius and on the beach. When I got back from the warm island two weeks later, falls is here and has knocked me off my feet. So until a selection of knitwear arrives at my house (I binge-ordered everything I could find that was available in my size), I need to adjust my wardrobe.
Meaning – I'm layering a lot, using the thinner jackets of my closet to wear at the office. It would look kind of weird if I wore a coat, but a thin leather jacket is fine and doesn't look like I'm about to go outside for a walk. For today's look, I chose an all-black look, the loose shirt being the only exception to bring some color in the game. The choice of shooting location threw as back on memory lane. It dates back almost two years that photographer Daniel and I met up for the first time to try and shoot together for the blog. Ever since then, he's been my go-to-photographer and I am super happy how his pictures enhanced the quality of my blog a lot! How do you like today's look?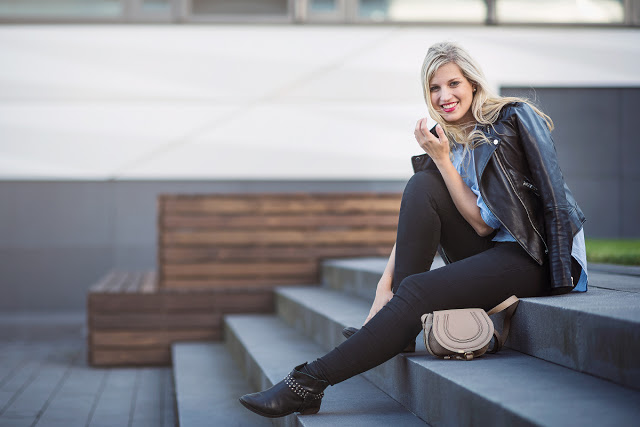 Get the Look: