Es ist Ende April und ich habe die Heizung an. Dass das ein schlechter Scherz ist, glaube ich aber dann doch erst, wenn es Mai ist und ich mein Auto – wie heute morgen – unter zehn Zentimetern Schnee ausbuddeln muss. Mir reichen drei dicke Pullover noch nicht aus, um warm zu werden und ganz Deutschland verlernt wieder das Autofahren (Oh mein Gott, eine Schneeflocke!). Das soll mir recht sein, solange es Männer sind.
Mein Freund und ich haben nämlich da diese Sau. Also ein Sparschwein. Eine dicke, fetter Sau, die uns für die Fehler des eigenen Geschlechts büßen lässt. Sehen wir also eine Klischeefrau, die nicht einparken kann oder langsam durch den Verkehr nudelt und alle Autos aufhält, dann muss ich ein paar Euro in die Sau werfen – ist ein alter Opa zu stolz um einzusehen, dass er den Autoschlüssel an den Nagel hängen sollte, weil sein Wackeldackel auf der Hutablage wohl verkehrstechnisch zurechnungsfähiger ist, wird der Herr zu Kasse gebeten. Da merkt man erstmal, wie viele Leute unglaublich schlecht Autofahren!
Aber darum geht es gar nicht. Irgendwie wollte ich das aber trotzdem erzählen. Bevor ich meinen Hintern also in die Küche schwinge und für den Göttergatten und mich ein paar Flammkuchen raushaue, möchte ich euch dann doch noch ein kleines Outfit zeigen. Zur Zeit bin ich sowas von casual unterwegs, dass ich mich fast nicht mal mehr traue, es ein Outfit zu nennen, weil es einfach meine Lieblingsteile zusammengewürfelt sind. Aber sind das nicht vielleicht die besten Outfits, gerade weil ihr die Teile bestimmt auch alle zu Hause habt?
Der Trenchcoat war meine beste Investition im letzten Jahr, glaube ich (neben meiner Chloé-Tasche, die ich heiß und innig liebe und wirklich j-e-d-e-n Tag trage). Zeitlos und klassisch, sportlich oder schick. Alles geht damit. Ich bin wirklich froh, dass ich mir so lange Zeit gelassen habe, um den richtigen für mich zu finden. Wie gefällt euch der Look?
_ _ _ _ _
It is the end of April and I just turned the heater on. This must be a bad joke – at least that's what I thought when I had to dig out my car from under a thick layer of snow this morning. Three sweaters aren't enough to keep me warm and with the first snowflakes falling, people start to forget how to drive a car. Which is actually a good thing, as long as it's a man in the car (my boyfriend and I have a piggybank for bad driving – whenever we see a woman not able to park her car properly, I have to pay and whenever and old grandpa doesn't give up driving but reaaaally should, then he has to put some money in).


But we're not here to talk about the weather or my piggybank – I've got a new outfit for you guys. It is so casual that I wouldn't even call it an outfit. It is more like a combination of my favorite pieces. The trench coat and the Chloé bag are definitely and without a doubt my two best investment pieces of last year. It took me forever to find the perfect trench, but I wouldn't want my closet without it anymore. How do you like this very laid-back look?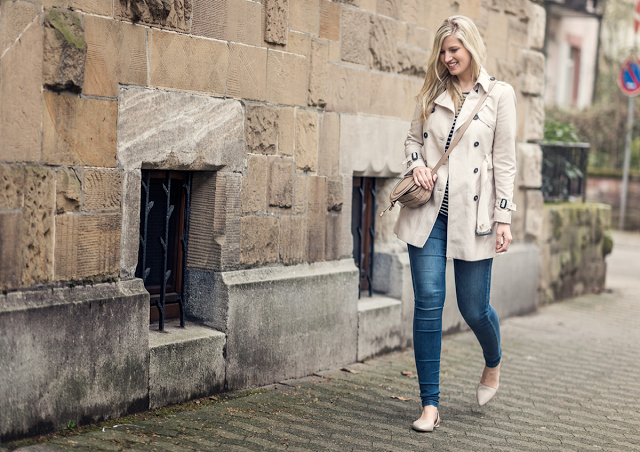 Get the Look: