Erinnert ihr euch noch, als ich euch vor einiger Zeit ein paar Wildlederjacken gezeigt habe? Kurz darauf bin ich durch den örtlichen Orsay gebummelt und fand eine braune Jacke in Velouroptik, die sich in diese Reihe ganz wunderbar eingegliedert hat (die grüne Jacke muss ich aber trotzdem noch haben – mein absoluter Favorit!). Die durfte dann genauso mit wie mein Poncho aus einem meiner letzten Outfitposts.
Ich wollte mit der Jacke einen ganz schlichten, alltagstauglichen Look gestalten, in dem man den ganzen Tag verbringen kann. Da ich großflächig nur Basics wie Jeans und einen schwarzen Feinstrickpulli trage, wollte ich unbedingt in den Details ein bisschen was Besonderes haben. Wer meine Instagram Stories (@leonie_loewenherz) verfolgt, der kennt ihn schon – meinen heißgeliebten Bikergürtel, den ich mir zwar etwas zu groß aber gerade noch passend bei Mango bestellt habe, nachdem ich monatelang auf so ein Teil gegeiert hatte. Natürlich ist er jetzt ausverkauft, aber dieser hier sieht genauso aus.
Beim Shooting wurde Fotograf Daniel dann auch fast noch umgefahren, weil er in vollem Einsatz auf dem Boden lag und eine Dame sehr enthusiastisch auf ihm einparken wollte. Lebt sich gefährlich, so als Fotograf. Wie gefällt euch mein Outfit heute? 
_ _ _ _ _
Remember when I was lusting all over biker jackets a few weeks back? Only a short time after that, I was strolling through the local Orsay store and stumbled upon a brown jacket in velours optic that matched the biker jacket theme perfectly, so it had to come home with me. I still have to get the green one though, it is by far my favorite. With the jacket, I wanted to create a very basic and simple look to wear everyday and for running errands. As I'm mostly wearing basics like a pair of jeans and a cozy sweater, I wanted to add a few special details.
One of those details was my cowboy style belt that I've been craving for months before I finally got it. It is just beyond cool and I feel invincible whenever I wear it. When we were shooting this outfit, my photographer Daniel almost got hit by a car with a women who enthusiastically tried to park her vehicle. Guess she needs to work with her mirrors a little more. Looks like the job of a photographer is pretty dangerous. How do you like the outfit?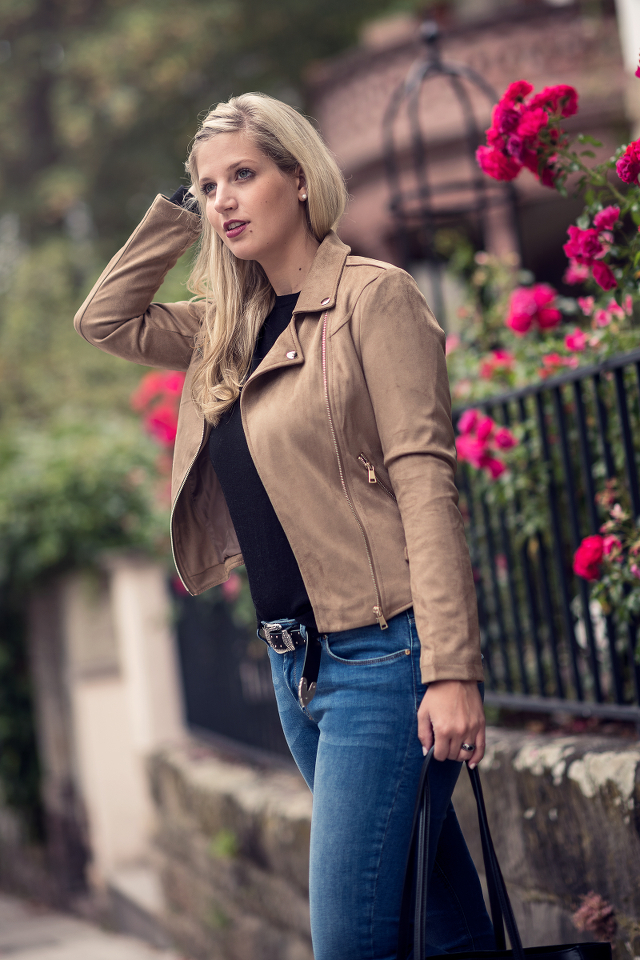 Get the Look: