Also, ich weiß ja nicht, wie andere Mädels das durchbringen oder ob es ihren Männern wirklich egal ist – aber Rosa und dergleichen haben bei uns zu Hause keine Chance. Das will ich meinem Freund auch nicht aufdrängen, sonst muss ich bald Ja sagen zum Kunstrasenteppich im Schlafzimmer, wegen der Gleichberechtigung und so. Ich kriege also kein Rosa, Rosé oder sonst etwas allzu feminines (kann er aber glauben, dass ich diesen Winter haufenweisen knallepinke Pullover trage. Irgendwo muss der Ausgleich ja herkommen), dafür bleiben mir Geschmacklosigkeiten wie Lavalampen und Kunstrasen-Dekoteppich erspart. Fairer Deal.
Was jetzt allerdings für euch nicht fair ist, denn irgendwo muss ich ja das innere Dekomädchen in mir rauslassen. Deswegen ernenne ich den Blog heute kurzerhand zur intensiven Rosa-Deko-Zone. Tada! Aber keine Angst, so schlimm wird es nicht. Keine Barbiezimmer mit Schweinchenrosa und Quietschepink. Es wird stilvoll bei uns mit Rosé Quartz, einer der zwei Pantone-Farben des Jahres. Jaja, ich weiß. Ich bin wieder ein bisschen spät dran mit Inspiration im letzten Jahresviertel finden. Aber besser spät, als nie – und überhaupt finde ich (Stand heute) die Top10-Pantone-Trendfarben für nächstes Jahr bisher eher so meeeh. Rosé Quartz behalte ich daher gerne ein bisschen länger.
Euch möchte ich ein bisschen Inspiration geben, wie ihr das Farbschema – sofern ihr Single oder durchsetzungsstark im Dekorationsbereich der Wohngemeinschaft seid – in verschiedenen Wohnräumen integrieren könnt. Dabei mixe ich von allen etwas rein, damit für jedes Budget etwas dabei ist. Ob also für euch eine Couch oder ein Sessel in dem tollen Farbton in Frage kommt oder dann doch eher nur ein paar Bilder in der Gallery Wall über eurem Schreibtisch – ich setze euch hier keine Grenzen.
Besonders schön lässt sich Rosé Quartz mit Kupfer- und Grautönen mixen, aber auch mit Gold – wenn ihr es etwas verspielter mögt – wie im letzten Bild mit der Chillout-Zone. Ich kann mich gar nicht entscheiden, was ich am Schönsten finden soll. Achja. Muss ich ja auch nicht, kommt ja eh nicht in die Wohnung. Schade… Wie sieht das bei euch mit Rosa aus und was ist euer Favorit? 
_ _ _ _ _
I really don't know how other girls do it or ir their men really don't care – but pink, rosé and everything similar don't have a chance concerning colorful presence in the interior of our place. If I add pink color to our interior, I soon may have to accept a soccer-style rug made of artificial grass. This is what I call fairness in a relationship – no pink for me, no tasteless stuff like lava lamps for him. But fairness in our relationship means unfairness to you, because my wants and needs for pink or rosé color are more present then ever now that I can't have them in my interior. Especially, as the beautiful shade Rosé Quartz is one of two Pantone colors of the year!
So, I now need to make my blog the outlet for my love of rosé. I found some beyond beautiful pictures of interior design including Rosé Quartz. I thought of ways to implement them here on the blog and get some use for you out of them (other than just staring at them for hours and trying to convince yourself that renting another apartment just for rosé colored rooms is not an option). Eventually, I came up with the idea of just finding the pieces showcased in the pictures so that you can see where to get those pretty pieces (in case you're single and can use rosé in every room you want or in case you're very strong-willed in your relationship and you con't care if your man likes rosé or not – I am really close to that point, because let's face it: the rooms below are just too pretty). I tried to implement pieces from different price ranges, so there is something for everyone in here. Do you love the rooms as much as I do?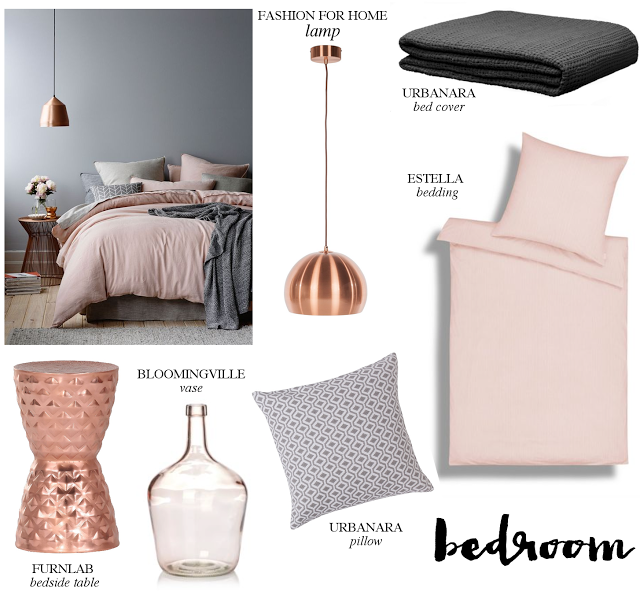 Kupferlampe – Fashion for Home // Bettwäsche – Estella // Tagesdecke – Urbanara // Beistelltisch – Furnlab // Vase – Bloomingville // Kissen- Urbanara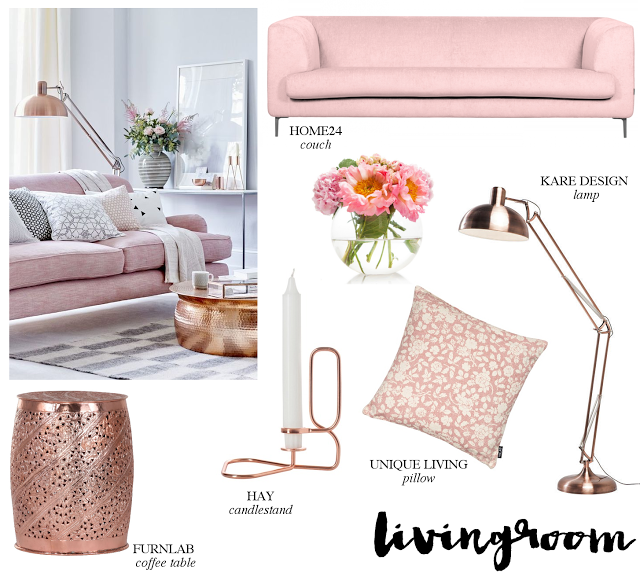 Sofa – Home24 // Beistelltisch – Furnlab // Lampe – Kare Design // Kissen – Unique Living // Kerzenständer – Hay 
!function(d,s,id){var e, p = /^http:/.test(d.location) ? 'http' : 'https';if(!d.getElementById(id)) {e = d.createElement(s);e.id = id;e.src = p + '://' + 'widgets.rewardstyle.com' + '/js/shopthepost.js';d.body.appendChild(e);}if(typeof window.__stp === 'object') if(d.readyState === 'complete') {window.__stp.init();}}(document, 'script', 'shopthepost-script');
JavaScript is currently disabled in this browser. Reactivate it to view this content.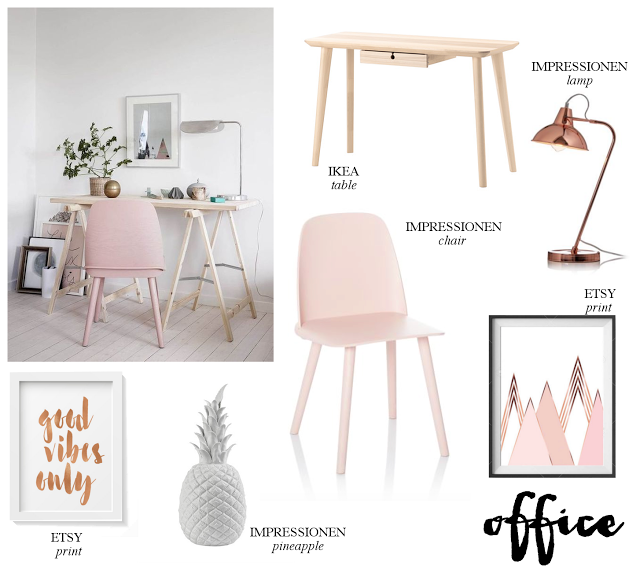 Schreibtisch – IKEA // Stuhl – Impressionen // Lampe – Impressionen // Print 'Good Vibes Only'- Etsy // Print Dreiecke – Etsy // Ananas – Impressionen
!function(d,s,id){var e, p = /^http:/.test(d.location) ? 'http' : 'https';if(!d.getElementById(id)) {e = d.createElement(s);e.id = id;e.src = p + '://' + 'widgets.rewardstyle.com' + '/js/shopthepost.js';d.body.appendChild(e);}if(typeof window.__stp === 'object') if(d.readyState === 'complete') {window.__stp.init();}}(document, 'script', 'shopthepost-script');
JavaScript is currently disabled in this browser. Reactivate it to view this content.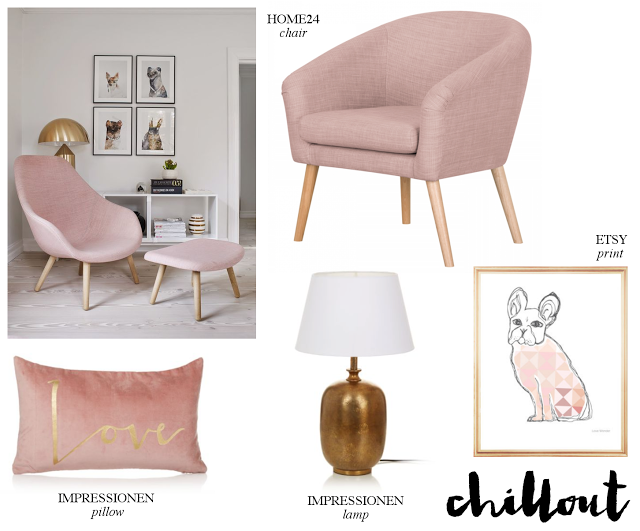 Sessel – Home24 // Lampe – Impressionen // Hundeprint – Etsy // Kissen – Impressionen //
!function(d,s,id){var e, p = /^http:/.test(d.location) ? 'http' : 'https';if(!d.getElementById(id)) {e = d.createElement(s);e.id = id;e.src = p + '://' + 'widgets.rewardstyle.com' + '/js/shopthepost.js';d.body.appendChild(e);}if(typeof window.__stp === 'object') if(d.readyState === 'complete') {window.__stp.init();}}(document, 'script', 'shopthepost-script');
JavaScript is currently disabled in this browser. Reactivate it to view this content.